People are strange when you're a stranger faces look ugly when you're alone.
I almost got my head taken off in soccer when I dove for the ball as goalie and the kicker made a quick move to jump over me. This same boy runs into me shirtless in the hall. Again, this same boy is staring at me all day. So much of him in so little time. He's suffocating me
I sometimes find people staring at me. I wonder," What is there to be awestruck by on such a plain girl?" The world is mysterious, yes.
There's this girl at my school and she thinks she's not great, She cuts up her arms because the world only hates, She smiles and laughs and giggles and such, But I know she is sad, so very much, They all call her ugly but I know she's not, The problem is she believes all their thoughts, She's scared and afraid and she's in the dark, And she just needs someone to light a spark.
Decide what to be and go be it.
If at first it doesn't work, Just have faith and begin, For if you don't have time to restart, Why should you ever end?
Just a reminder that you are beautiful. I couldn't have said it any better. I may not appreciate the music 1D cranks out, but I respect the 5 of them.
Doubt kills more dreams than failure ever will.
I hate when people tell me they are my best friend. It's my decision who is my best friend and who isn't.
Soul mates? I think they exist. Just not always romantically.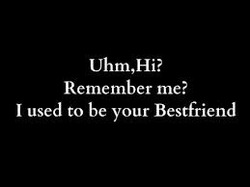 It's Over.
Remember how I used to obsess over this guy? Well, we used to be really good friends. And now he acts like I don't exist. He used to use me for his grades. But now he doesn't even care. I don't like him anymore. It's over. This 3 year battle? Over.
Life is too short to be taken seriously.
Life is too important to be taken seriously... -Oscar Wilde
What I've Learned About Life
Looks are deceiving, and so is the past. Forget your memories, applied to the future they are lies. Sometimes you just gotta do shit yourself beacause no one is gonna help you. It's life. Get used to it, champ. Pick yourself up, forget him, and find someone who actually cares.
Keep your head up, keep your heart strong.
H.O.P.E.
Hold on, pain ends.
I've lost a lot of friendships, family members, pets. I've had my dreams crushed time after time and found myself with nothing. But through it all, you were there. Thank you, KMH