They fight and fight. And I become a victim of it.
Day 5
Woke up with the jaw still slightly sore, and a bit of pain on the bottom right... When is this going away?!
Home alone isn't fun at all, although I love the quiet peace with no one around.
Day 4
It's already the fourth day, but apparently I look kind of dead... School is starting in four days too, what am I going to do ;--;
I hate this
People think I can't hear them, or that I'll never find out when they talk behind my back just because they act all nice in front of me. I can clearly hear you. Thanks for degrading me.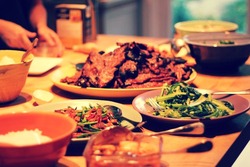 Food
All I'm doing is to look at pictures of food, as I can't eat them ;--; It's slightly hurting, but I guess I'll be fine until it'll heal..
Teeth extraction
Doesn't hurt as much as I thought, but the pression before that, wow. Missing 4 teeth now, it's empty ;--; But I didn't get to see or keep my teeth, poopy.
김현아
Every time I see her, I smile. She's such a great artist, and definitely someone I look up to. Most people know her for her "sexy" image from her solos, or Gangnam Style. But that isn't just Kim Hyuna. She's beautiful, talented, amazing. A girl with a big heart, and someone who works hard to please the audience. Today isn't a special day, like her birthday, or anything, but I just thought of writing this, because seriously, this girl is the best. She's definitely my favorite female celebr...
She yells
She's your mother, an old woman struggling to move with her weak body.
Doing my schedule in less than a minute, this is just so nerve-wracking, omg.
#555
Won a trip to Toronto last night at the Teochew year-end meeting dinner~~ & talked with sister until 3AM last night @@
I'm sorry if science/medicine is the only job you consider as a "real" one, but I got no interest in that.
How to spend a merry Christmas: working full shift. Yay, all the fun =="
I wish I had an older brother too -envy-
Going around telling everyone how a bad daughter I am. Well, thank you for emphasizing even more of how useless I am. Can I even have a day, no, a moment that I can just be "proud" and "happy" about myself?