Ughh
Too many fucking thoughts.
To many questions
Have you ever had so many questions in mind but less answers. Believe me i have been there,
Learning to Let Go
This week has been tough for me. I've been at my job for almost 7 years and one of the things that I set out to do was move up. While I have, it has only been in the recent years that I have done this. There is still a big part of me that wants other things in my life and it has nothing to do with my current position. However, I have a boss that I deeply care for and have stayed. I've been a loyal employee and taken everything with stride. Even the fact that they underpay me and undervalue wh...
The life of a French Fry
Day 3- After falling for what seemed like ages I finally landed in some sort of pool.Then all of a sudden this pool started to move me up and down until I was mush. I was being broke down even more than I was before from the face hole.After I was mush, I was pushed down into this hole.
The life of a French Fry
Day 4- While I was getting pushed through a very tiny hole, I started to swing up and down just like a waterside.But after being picked off of for about 5 minuets, I started to turn into sugar due to Enzymes. And then all of my fat just started to look like a skinny piece of fried potato. Right after this, was when I started to feel sick.
The life of a French Fry
Day 5- I was swing left and right at what felt like full speed. And I could only see my tiny little vitamin friend getting pick off left and right.It was then that I realized the cold hearted person that was eating my vitamin friends was called the VILLI aka the villian. After about 2 minuets of watching my vitamin friends die, all that was left of me was just water.Even though I could sense that the end was near for me I decided to keep on going.
The life of a French Fry
Day 6- About 10 minuets of sliding left and right, I finally reached the end. And on the sad side the only thing that was at the end was somesort of waiting room. The waiting room actually got very packed with other items along with me. And it seemed that Once it wa full all of us items feel into this white pull that had some sort of clear liquid in it. R.I.P French Fry 4/23/17
The life of a French Fry
Day 1- Everything was normal, I was just sitting on Walmart's shelf with all of my brothers and sisters.Then BAM!! I was picked up and placed right into a a shopping cart. After that Everything went blank. Once I woke, I was In this strange hot boily substance. About 10 minuets after I was placed on a plate and headed toward a person.
I understand
"because i was in love then."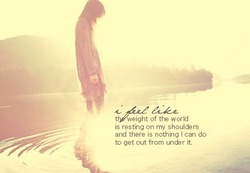 A Place
Problems are the worst, especially family problems. Everyone has issues these days. And it seems like there isn't a single person in the world who would want to talk and listen to what you have to say. Maybe there is. Maybe there isn't. I don't know. Is there? If there were people wouldn't be crying in the inside. People wouldn't be in pain. People wouldn't have to suffer alone. This world is messed up. But it was never perfect in the first place. I just wish there was a place for people ...
The beginning
This was my daydream when I was in high school. I would say I didn't fit it in at school just like the other people who feel the same way when they were young. I went to school 2 years early and it made me think childish things while dealing with kids that are 2 years older. Because of that, I like to daydream. I would still attend classes and answer all the lessons that were given to us yet I will still try to daydream...It didn't matter where or when I wanted to do it as long as I need t...
Being Sunflowers
Like a sunflower, you're beautiful and fascinating. You're as soft as satin, just like petals of a flower to me. To some, you're a commonality...just another thing; But the light you emit is so easy for me to see. I can't imagine ever taking such a jewel for granted; Thats why I believe so much in second chances. If I left this earth today & reappeared tomorrow, then I'd want to return as the seed of a sunflower. Plant me next to you, and I'd love to watch you grow. An immaculate sight, as we...
Heart Chronicles of 2
I wanted you to matter. I wanted us to be real. I was hoping you were after more than just a thrill. To cheapen what we had was the worst of sins, but I guess it doesn't matter if you always planned to leave in the end.
Loving Whats Not Mine
All I have, all I need, he's the air I would kill to breathe Holds my love in his hands, still I'm searching for something Out of breath, I am left hoping someday I'll breathe again I'll breathe again Open up next to you and my secrets become your truth And the distance between that was sheltering me comes in full view Hang my head, break my heart built from all I have torn apart And my burden to bear is a love I can't carry anymore All I have, all I need, he's the air I would kill to breat...
Day In and Day Out
My first thought in the morning and my last wish at night....I'm beginning to think you're my obsession. Now that's laughable. More like a very bad habit that needs breaking. It's crazy to me how I could have let myself get to this shit again. Being conscious of the fact that I'm in the "anger" stage makes me feel a little nuts. The roller coaster ride of emotions, I'd like to pass on. Day In and Day Out. MutherF this crap!
Where Are You?
You built me up You made me believe That I was the only one That you'd ever need But now I'm sitting here And nobody cares but me Stop bringing me down You got me on my knees The first time around You were so good to me But now I'm out here in the cold With just MY OWN HANDS TO HOLD..... Where Are You...?
Happy mask salesman
Try to imagine a world without timekeeping You probably can't, you know the month, the year, the day of the week Yet all around you timekeeping is ignored Birds are not late, a dog does not check his watch, deer do not fret over passing birthdays Man alone measures time, man alone chimes the hour. And because of this man alone suffers a paralyzing fear that no other creature endures A fear of running out of time
I'm tired of being scared all the time. It's just annoying! I accept now that i can't go through life not making mistakes, but I can learn to deal with challenges and maintain positive attitude. It's time to smile :)
CONFUSION
lately i have been really obsessed with the concept of confusion. in biology i learned about the development of cephalization (this has to do with the evolution of a brain) and it fascinates me how other organisms live without exerting much energy on conscious thought. and the idea of really knowing nothing, seems in many ways, better than knowing so much. when i really think about what knowledge is... from a biological perspective.. a collection of memories, but memories are unreliable. even...
"THE FIRST DATE MENU AND THE (MIS)ASSUMPTION(S)"
At first, you may think this is another typical first date story. A guy takes a girl out on a date. They have a pleasant talk until it is time to order something to eat. The guy orders the main course. You know, carbs, protein (alias meat), and veggies. He even plans to have an ice cream for dessert. When the girl only orders chicken salad and water, he wonders aloud, "Nothing else?" When she just nods and smiles, he asks again, "You sure?" "Yeah." The girl nods again. After that, he spends t...
"GETTING TO KNOW YOU..."
Perhaps I'm just jaded This chaotic reality always gets to me a lifetime war between worlds where all pacifists long to break free Maybe I need something new a possibility, something true What if it happens to be you? That thought alone scares me too Throughout this loud, crazy world I find myself passing by your door silently praying for the impossible God, I feel like a stalker I'm not pretending to be humble but I really am an ordinary girl I know you do notice me, but will love ever be...
"THE EXPRESSIONS I PERSONALLY DON'T ALWAYS BELIEVE"
As a non-native speaker, I sometimes find English confusing. There are some expressions that I personally don't always believe, like: 1. "I'm just saying." I can't help this. Every time someone or anyone ends their long-winded speech with this line, I'm just skeptical. I don't buy it easily. You're never really 'just saying'. What's the point in doing so when all you want to do is just 'get those words out of your head and through your mouth'? It doesn't make sense to me. There's always a...
Monday/Friday/nighttime
I watched a documentary the other night and the main subject made a statement. I dont remember the exact words. But it was at a point in the film where she mentioned losing the knowledge of what day and time it was. She always referenced that to feeling a sense of freedom... These days i often forget what day it is. And the clock seems to confuse me. But it doesnt make me feel free. It makes me feel crazy. My mind is set to California time. And the days are so long that it doesnt even matter ...
Lol
So it's 2018 . What does that even mean lmao. Just another day . I feel like shit still lmaoooo