Dead Man Walking
I know December is the month of joy. but until today, my life is dull. just got rejected for my study visa. this happen because of a little mistake. until today, I havent got any news about my CAS statement so I'm not sure when will I apply for the new visa application. :( i'm sad this have a impact for my future. sad sad sad aside from the darkness, my december filled with weird yet sweet dreams that always come to my sleep. hope its a good sign and hope you guys have a good day :))) ...
Rough Day? Shoo it away!
Catching a dream or satisfaction is just the same as taking a long walk up to the hill. When you start it will become hard and tiring, but when you enjoy it, you will never know what joy can bring you. As we reach our goal, everything that we pull out are paid off and the way down are the heaven of our hell. - be happy
Scared.Worried.Haunted
The words untold in every mankind. These word are a pride for a man, a secret for a person. Thinking back, there's always a time where you will find yourself missing a direction and something/someone to hold on. But should we keep these three word in our mind? The answer is NO. Although words are enchanted. these word should not feel you down. when youre thinking positive, everything will be alright. erase all the doubts you have and trust yourself and god. personally, I've been tr...
Secret Behind Rainbow
Pink.Blue.Red.Yellow. cheerful as I know. joy.Pride.Courage positivity in your life. Motivation.Prediction.Transformation One big bowl of Future. You and Me. Twins yet Different. Secret Behind a Rainbow, is a truth behind a lie. nothing can be seen within an eye. *picture:searchingoogle
Life is A Thrilling Ride
"The point of living your life is to enjoy what the world offers. From up and down, to every loop with no end. The biggest question is 'are you going to enjoy it or puke and scared?' Life is like A Thrilling Ride. You depend on yourself. take it or leave it." - Enjoy
Baby I
Not really a fan of Ariana Grande, but her song are awesome. Especially, the one feat. Mika. For someone who like Mairah- kind of style, this song suit you well. "Straight up, you got me, All in, how could I not be, I sure hope you know If it's even possible, I love you more Than the word love can say it It's better not explaining That's why I keep saying… Baby I"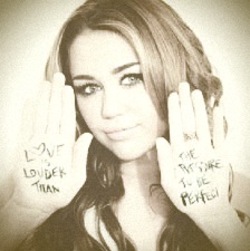 No Smiley Miley?
Am I the only one who missed good old Miley Cyrus here? well, I'm not denying the fact that her latest single is very controversial yet catchy. Personally, I kinda like the actual song (does not include MV). However, looking at her recent action (VMA) and concept, is she going to be like every other childhood star? there are lots of phenomenal girls become negatively impacted. these include Lindsay Lohan, Amanda Bynes, and others. (lets hope she's not in the list) I really missed the old M...
1..2..3... 130 days in counting before I leave for Uni live. Most of my classmates had already gone to their destination. In the meantime, I'm wondering around, seeking for things to do at home to fade my boredom away. Although, my departure time have not been fixed, I do hope I can survive these boredom. Honestly, I can go this fall semester, but due to several reason I choose to stay. Is it bad? I don't know. I'm not a good writer, nor a good story teller. But through this diary, I do ...