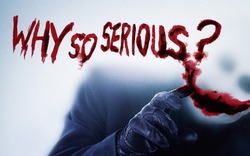 Honestly,I don't like serious people that act like grown ups. No matter how old are you there is still a child inside you somewhere. You just need to find it :)
I did it because I wanted to, because I needed to, because I had to, but mainly because you said I couldn't. Just how I function. :) You?
Batman
You know what? He's right. You should be grateful in every second of your life. I don't know why but every time i did something wrong,my thoughts were ''I could have done this a lot worse''...or when something bad happens I have thoughts like Batman. That's how i comfort myself. Think about it..do you think like '' I'm gonna die'' or how do you comfort yourself? How do you make your life easier in your head? What are your thoughts at the moment you do something wrong?
Serbia
I am from Serbia and I've never realized what other people have against us..I get that there are people in my country who are bastards,but not all of us are like that...for example,look Novak Djokovic (you all know him)..he is very humble and he has a bigger heart than most of us,if you consider that he has donated all the money prise he won in Rome for the recovery of his country after the floods here. That's all I had to say..stop judging us. One of the most important life lessons is: Don't...
The truth hurts
Honestly,some people are just boring and they don't know when should they stop talking. But what can you do...not everyone is as interesting as you :)
Drawing
This is my work,I like to draw portraits an animals in my free time and every single drawing I create has a meaning. Discover what's the meaning of this one ;)
Life♥
I am a volleyball player. I remember when I was just a little girl and all my friends were trying to convince me to try to play volleyball, my thoughts were ''I love soccer and I wanna play that'',that was because i grew up with an older brother and all my childhood was about soccer. I ended up playing volleyball just by accident. And now i adore it. Now,thanks to my friends I can proudly call myself sportswoman. I've been playing volleyball for six years now,and I'm not planing on giving up....
Never be scared
I've always known that life isn't simple.You never know who can you trust,and you never know who will turn against you. But you shouldn't be scared of them. Be ready to attack when you get hurt. Be a wolf. Show what you really can do. Let out the shyness and be brave. A wolf isn't ever scared. ☺